LATEST JOB VACANCIES
While much of Canada's economy relies on agriculture, a good proportion of the economy also involves manufacturing. As a result, there are always several factory worker jobs in Canada for Filipino workers without experience.
One of the main reasons as to why people head to Canada in order to work is because the pay is going to be much higher than the payback in The Philippines. Many of the positions, even when it comes to factory work, are designed to be seasonal. This means that you will be able to head over to Canada during the peak manufacturing season. This sometimes coincides with harvest and the like, probably because a lot of the factory jobs in Canada are built to develop the agricultural industry.
These positions are ideal for those who wish to explore Canada. Of course, you are going to be working exceedingly hard when you secure yourself a job in Canada, but you will not be working all of the time. Since many of the factories are located in popular centers, you will be able to go out and explore the surrounding area. For this reason, these jobs tend to be favored by those who are touring throughout Canada and want to set up a 'base of operations' for a short period of time.
Fruit Farm Labourer (Grape Farm)
Cashier
Assembly Workers
Food Factory Workers
Fruit packers
Nurses, Caregivers & Medical staff
Food Service Attendants
Live-in Caregiver
Call Center Agents
Accounting clerks
Assistant Chef
Software Developer
Administration
Human resources
Truck drivers
Welders
Warehouse workers
Engineers
Assistant Managers
Forklift drivers
If you have found your field there or dream job, just ready your requirements like passport, NBI clearance (green) and NSO. After that go to POEA and ask some questions to verify the job that you want.
MERCAN CANADA EMPLOYMENT PHILIPPINES
POEA License No: 065-LB-072414-R
Address:
Unit 502 & 506 Galleria Corporate Center Cor. Ortigas Ave., Quezon City Quezon City
Tel No.:
63 910 8011 – 13
CHARTREUSE PRIME RECRUITMENT SPECIALIST
POEA License No: POEA-264-LB-122011-R
Address:
No. 138, CPDC Bldg., Gen. Luna St., Brgy. Ususan, Taguig City
Tel No.:
643-7984;643-5400
EYEQUEST INTERNATIONAL MANPOWER SERVICES INCORPORATED
POEA License No: POEA-150-LB-080511-R
Address:
UNIT 304 VAREB MANSION 1679 A.MABINI COR. MALVAR ST.MALATE MANILA
Tel No.:
5218053 / 5232407 / 5363754
AQIUM INTERNATIONAL INC
POEA License No: POEA-224-LB-110411-R
Address:
Unit 2A, 3A & 3B, 4K Plaza, 677 Shaw Blvd. Kapitolyo Pasig City
Tel No.:
633-2759
FIL-HR MANPOWER DEVELOPMENT & SERVICES SPECIALIST CORP. (MAKATI BRANCH)
POEA License No: POEA-067-LB-050815-R
Address:
Rooms 102, 201 & 205, DSI Building, 1251 Cardona St., J.P Rizal Ave. Makati City (Landmark: MAKATI CITY HALL)
Tel No.:
Tel No. 02-5119994 Office Addres: 1251 Cardona St. David Salon Bldg.Pob. Makati City (near Makati City Hall)
IPAMS (INDUSTRIAL PERSONNEL AND MANAGEMENT SERVICES, INC.)
POEA License No: POEA-247-LB-120911-PA
Address:
IPAMS Bldg., 723 Aurora Blvd., New Manila Quezon City
Tel No.:
(632) 2345640-41
FINEST ASIA RESOURCES, INC.
POEA License No: POEA-040-LB-022212-R
Address:
7th Floor Vernida IV Bldg., 128 L.P. Leviste St., Salcedo Village Makati City
Tel No.:
818-0031-32
MAGSAYSAY GLOBAL SERVICES ,INC.
POEA License No: POEA-013-LB-032714-R
Address:
7th Flr. Times Plaza Bldg., United Nations Ave. Corner Taft Ave. Manila
Tel No.:
5672222 loc 9350 and 9649
AUREUS MANPOWER AND CONSULTANCY CORP
POEA License No: POEA-025-LB-101915-PLe
Address:
2/F Almanza Square Bldg., 490 Alabang Zapote Rd., Almanza Las Pinas
Tel No.:
(632)4489792, (632)5534332, (63917)8052939, (63918)9381982
So, save those Philippine-based agencies and their mobile numbers or telephone numbers so you can ask them about their job opening in Canada.
Canada is an open country that welcomes different ethnicity to work in their country. So it must be easy to apply for Filipino but you really need to find the right agency that will not just take your money saying it's for visa processing, that is not true so do not fall for that kind of scammers tactic around the internet especially on Facebook.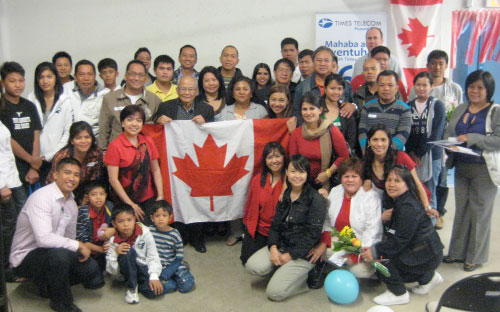 You are going to stand an even bigger chance of being able to score factory worker jobs in Canada if you are skilled. If you have worked in a factory position before, then it is likely that you will receive several jobs offers pretty quickly. This is because there is currently a shortage of Canadians willing to fill factory positions. That is not to say that you will not be able to score a job if you are new to the industry. You probably can, but it is going to be a whole lot harder for you.
Of course; it is worth noting that the competition for these jobs will be very high. A lot of Filipinos head to Canada to snap up positions. This means that you should be the best of all and you can't just ask for a job and get one. You will need to put a lot of effort into tailoring your resume to ensure that you stand a chance of even being asked for an interview. This is the only way in which you will be able to secure a top position when it comes to the most competitive work!
Remember; if you are looking for factory worker jobs in Canada, it is important that you take the time to ensure that you are only working with reputable companies. It needs to go without telling that there is some few companies in Canada operating which maybe do not have your best interests at heart when it comes to hiring. It is important that you avoid them. If you go through the right channels, then finding factory worker jobs for Filipinos in Canada should be easy!
Credits:
workabroad.ph
askmigration.ca
NTFW.ca